How to Help Young People Feel Worthwhile No Matter What
Developed by Professor Michael E. Bernard, Centre for Wellbeing Science, University of Melbourne, Founder, You Can Do It! Education
Not a game, Accepting Myself is a fun, innovative social and emotional eLearning program for students that incorporates the latest developments in online, interactive instructional technology. It engages students in learning and personalising a psychological superpower in order to feel worthwhile no matter what!
When young people do not feel worthwhile, they are often likely, on the one hand, to experience mental health problems (anxiety, depression) and, on the other hand, not be sufficiently engaged with learning and relationships to fulfil their potential and to flourish. Unfortunately, many young people have a well-developed tendency to take things personally – so much so that they lose sight of their positive features.
In a very crowded timetable, the online Accepting Myself program can be completed by students at home or in the classroom.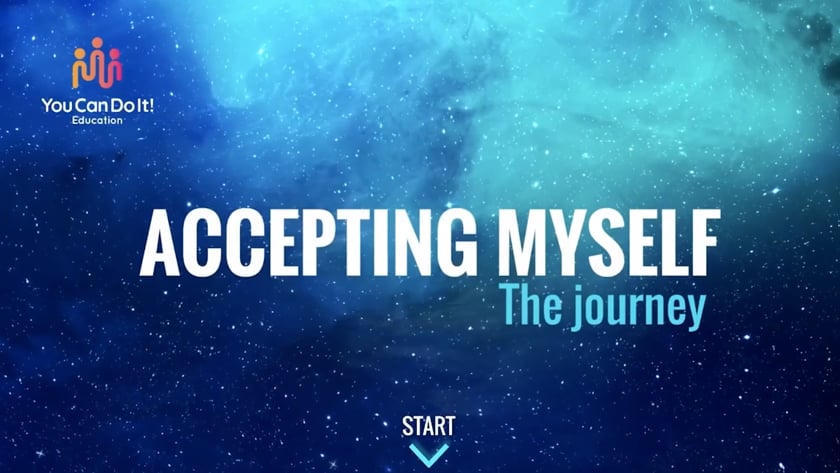 BENEFITS OF THIS PROGRAM FOR STUDENTS
As a result of participating in the program, students will demonstrate a developing capacity for changing self-criticism (taking things personally) to self-acceptance. Additional positive outcomes include greater: self-awareness, self-management, self-worth, independence, confidence and resilience.
3-PART STUDENT ELEARNING PROGRAM
Suitable for ages 9 to 16+
When purchasing the Accepting Myself program for your students, you receive access to:
Preview this resource and discover why Self-Acceptance needs to be an essential part of every school's wellbeing program.
Complete the form below and we will send you exclusive preview access to the elearning program